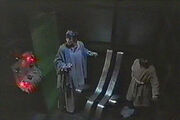 The former crew of the Christa programmed Thelma to go into the secret room once a week and download her memory into a private ship's log but the system erased her memory of it every time. Other functions of the room, if any, were never discovered. Shortly after the crew discovered the secret room, the system crashed, and the room was destroyed, but there may be other secret rooms on the Christa.
Specialized Equipment
Edit
The secret room is hidden behind a wall and can only be entered using a phase-through program that allows a person to pass through the wall. Equipment in the secret room made it possible to download Miss Davenport into the computer temporarily.
Ad blocker interference detected!
Wikia is a free-to-use site that makes money from advertising. We have a modified experience for viewers using ad blockers

Wikia is not accessible if you've made further modifications. Remove the custom ad blocker rule(s) and the page will load as expected.