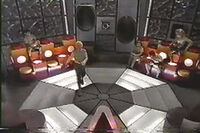 The Classroom is where Miss Davenport teaches lessons. It is located on Level 7 in the middle of the ship.
The classroom has two sets of colorful bleachers that can seat up to ten people on either side, although five is a much more comfortable fit. A podium can sit at the front of the room. The viewscreen is used for video and images. There is also a table that pulls out of the wall where Davenport sometimes places laboratory equipment for experiments.
Ad blocker interference detected!
Wikia is a free-to-use site that makes money from advertising. We have a modified experience for viewers using ad blockers

Wikia is not accessible if you've made further modifications. Remove the custom ad blocker rule(s) and the page will load as expected.