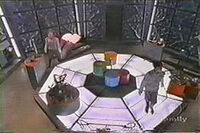 The Team Room is where the crew finds relaxation in Season One. It is located on level 3 on the starboard side.
When Rosie and Bova find the room in "We Gotta Get Out Of This Place", there are many activities already in place. A Flexor startles Rosie when it begins giving her a massage. Cards can be found to play Five Card Albie or Two Handed Jessup. Games include Nine Globe Dudley, Minbar Chess, and Ferna Hernan Three-Level Spitz.
Ad blocker interference detected!
Wikia is a free-to-use site that makes money from advertising. We have a modified experience for viewers using ad blockers

Wikia is not accessible if you've made further modifications. Remove the custom ad blocker rule(s) and the page will load as expected.