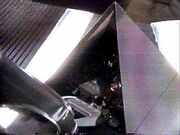 The pyramid-shaped Gizbot is essentially Thelma's mobile toolbelt. It can be opened up to access its controls, or to store things.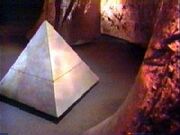 There are 1,771,561 Gizbots on the Christa, but only one is in service at any given time. Gizbot #8943 left the Christa after finding fame and fortune on the planet Neon. He was replaced by Gizbot #8944.
Ad blocker interference detected!
Wikia is a free-to-use site that makes money from advertising. We have a modified experience for viewers using ad blockers

Wikia is not accessible if you've made further modifications. Remove the custom ad blocker rule(s) and the page will load as expected.