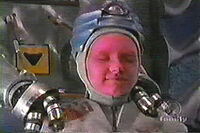 The Flexor is a set of mechanical hands. It is seen in the Team Room in the First Season and the the Lounge in the second; it is not unlikely that the ship has more than one set.
It is a voice-operated device. It is able to give massages, and in fact startles Rosie so much by giving her an unexpected shoulder massage that she overheats. It can also be used to simply hold things, as it does when holding towels for Radu and Harlan while they fence.
Ad blocker interference detected!
Wikia is a free-to-use site that makes money from advertising. We have a modified experience for viewers using ad blockers

Wikia is not accessible if you've made further modifications. Remove the custom ad blocker rule(s) and the page will load as expected.